Sloped Glazing
Important notes prior to request
Specific design producer statement documents will only be provided to architectural and/or building construction drawings specifying Metro Performance Glass glazing systems. (Read more)
The sloped glazing RFI is typically used for interior or exterior sloped glass, equal to or greater than 15 degrees from vertical. Sloped glass includes:
Skylight/roof light panels.
Spider mounted canopies.
2, 3 & 4 edge supported canopies.
Tie-rod canopies.
Please have all of the following information available to complete the RFI form in one session:
E-mail address for recipient of PS1.
Project details (street address, owner/developer, client/designer).
Building Consent Authority (the form has a drop-down list).
Project windzone (windzone only for buildings <10m high), or design windloads (preferably a building wind-map), or building and site drawings for wind pressure calculation.
Confirmation of movement separation (refer NZS 4223.1:2008 Section 3.8 Building Movement).
Snow load (where applicable).
Live load requirements.
Panel sizes / canopy dimensions.
Any special architectural or acoustic requirements.
Plan Elevation & fixing detail/cross section drawings.
Please note that the RFI form does not automatically save the entered information.
Some building related standards have recently been sponsored, and are available for free download from Standards NZ.
Snow load design pressure:
The snow load design pressure appropriate for the building location shall be determined from either:
AS/NZS 1170.3; or
4, Figure 36 for buildings for the 1.0kPa, 1.5kPa and 2.0kPa snow load in NZS3604 and Table 6.
Design live load:
Metro's default design live load is 0.5kN (surfaces over which boards or ladders are required to be laid for access, maintenance and cleaning purposes).
1.8kN live load is typically specified for any areas where it is practical for limited numbers of people to gain access, either from adjacent windows, roofs or balconies.
Austvision Tie Rod Canopy (Additional information):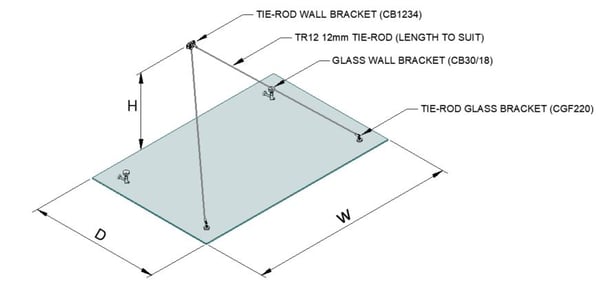 The recommended height of tie rod fixing on the wall should be at least 2/3 of the depth of the glass panel.
A height of less than 2/3 of the panel could be achieved in some cases with specific glass thickness and rod size.
The minimum slope of the panel should be 5 degrees from horizontal to allow for drainage.
Tie rod canopy not suitable for 1.1kN or 1.8kN live loads